---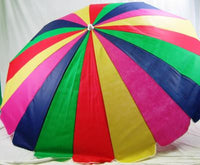 Beautiful multi-use extra large beach umbrella featuring 20 intricate panels and ribs.  Eye-catching summer bright stripes in every shade of the rainbow!  This jumbo umbrella is our best beach umbrella for wind. 
7.5-foot diameter with tilt mechanism.
SPF50 rating for maximum sun protection.
Colorful TNT Fiber with full 90 span.
Powder coated 2-piece steel pole section allows adjustable height & tilt.

Nice, heavy-duty  beach umbrella.