In this article we are going to share with you a wide variety of beach games. We will share with you.

Beach games for Kids
Beach games for groups
Beach games for two
Beach games with golf balls
Beach games for families
Beach games for toddlers
Beach games for 5 years olds
Beach games without equipment
Beach games for Spring Break
and much much more.
If you are looking for the perfect game for your beach vacation, we believe you will find it here.

TOP RATED BEACH GAME FOR 2020
Right now BULZiBUCKET is the most popular game for beach-lovers. Rules are simple: set the targets apart from each other, throw, assist, or hack the bags into the targets, count the points that you made, first to 21 (up by 2) wins. But this game is for all skill levels, novice to pro, all of your friends and family will love BULZiBUCKET.
When the weather is perfect to hit the beach this weekend. You can plan on having an amazing day!  BULZiBUCKET can guarantee a fun day at the beach for everyone. 

If you are planning to party with family and friends, you will love these ideas we share in this article. Frankly BULZiBUCKET is at the top of the list when it comes to must own beach games.  It is not only easy for everyone to play,  but it will be the game to make your beach experience memorable.
So when you're looking for something fun and different to do with family or friends on your next beach trip,and you're tired of carrying heavy, space-consuming games to the beach? Similar to the game Cornhole, BULZiBUCKET is a unique experience made just for the beach. All ages can play and is extremely light weight. It is easily packed away in it's stylish carrying case, which makes it easy to carry and easy to play. BULZiBUCKET is the perfect game for spring break, vacation, or just a quick trip to the beach!


I think no one in this world who would not want to have a beach party. It's such a great and relaxing feeling to have fun in the sand and sun. The best thing about having beach party games is the fact that it's not just about the place.
Whether you're on a real beach or are just in your backyard, you can always have fun playing sand volley ball, sand castle competitions and so much more. You can always modify your games to match the type of events you are organizing or to match with your theme, there is no limitations when it comes to the type of games you can play.
One good example for this is to have a luau competition with your friends if you want to have a theme inspired in Hawaiian. A limbo game will also do in almost basic theme as well as anything else that you think would be fun and will fit in the event.
Below are five of the most famous and well liked beach party games that you can try that require no special equipment. 
FAMOUS TV COUPLES BEACH/SURF PARTY GAME
You can write down the last names of at least 20 famous TV couples, and your friends and family have to put in the first names. They will only have about 5 minutes to guess the names. This is a beach game that requires no special equipment.
FAKE UNDERWATER SWIMMING
Give a pair of flippers and a glass of water to each of your friends after dividing them to a team. The first player stands at the start-line, wears on the flippers, takes the glass of water and lifts it above the head. So he/she is "under the water". At the signal the players begin to move forwards. On having covered the fixed distance the first "submariner" passes the flippers and the glass to the next player. If the water spilled from the glass after the first run, add some more water.
THE GREAT SHELL SEARCH

Fill cheap containers, sand buckets, or beach totes with play sand. Hide ten or even more shells in the sand. Give each child their own container and time who finds all the shells in the smallest amount amount of time. This is a popular beach game for toddlers.
MUSICAL BEACH TOWELS
A tropical twist on the usual musical chairs, this party game uses any folded beach towels or luau-themed placements in place of chairs. "Hawaii Five-O" or "Wipeout" is an ideal musical addition. (Don't forget the 4 The Beach, Beach Chair Towel Clips)
LAY ON THE LEIS
This luau party game can both be an individual and team game. Supply them inexpensive leis at the dollar store or party store. Mass the same amount in a center of hula hoops. The number of hula hoops is determined either by the number of participants or teams.

Line them up a distance away from the hula-hoops, each team/individual rush to their hula hoop, pile on the leis, and dash back to the preparatory line. If doing it as a team game, they would then switch leis with their teammate, who dashes to the hula hoop and back. First team with their last team member loaded with leis wins.
Best beach games you can buy and play for years.
Some are new and some are old but all bring more active fun to your time at on the beach.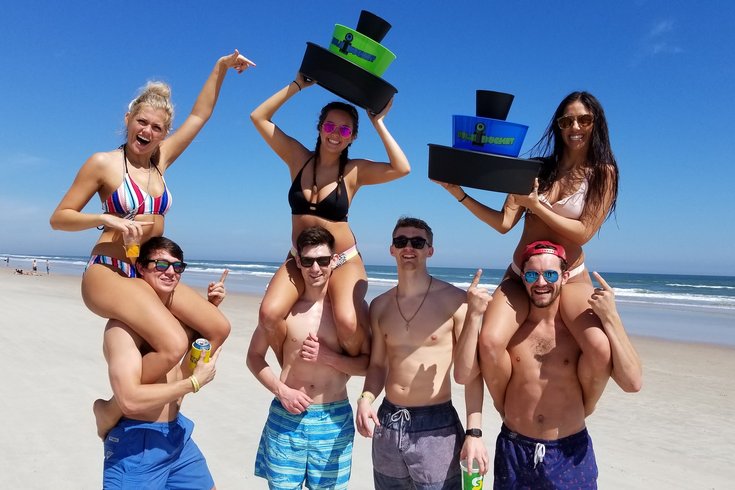 Yes that is the BullziBucket Game !
BEACH VOLLEYBALL GAME 4 THE BEACH
This is a traditional beach-sport mainstay with roots on the sands of California, and one which rose to the level of an official Olympic competition in 1996. At that level, it's a two-versus-two match, but games can obviously include more players
.

THIS IS THE MOST POPULAR BEACH VOLLEYBALL GAME SET ON THE PLANET!
TELESCOPIC POSTS – Both sets feature Vermont's premium aluminum telescopic volleyball posts. Posts can be adjusted to three different heights; 8ft (mens), 7ft 8in (mixed) & 7ft 4in (womens).


STANDARD SET – Coming with a 32ft FIVB regulation volleyball net, this set also features professional court line weaving tape to allow you to mark out a full size 60ft x 30ft volleyball court anywhere.


BEACH SET – The impressive Vermont Beach Volleyball Set features a 28ft FIVB regulation net, court line weaving tape (53ft x 26ft) & a sand anchor kit which guarantees excellent stability on the beach.


TAKE THEM ANYWHERE – Both sets are lightweight, super easy to assemble & come with a heavy-duty carry bag included to allow you to take the volleyball action wherever you like.


WASHER TOSS BEACH GAME
This "outdoor game of skill" involves two or more competitors testing their accuracy at throwing washers into recessed cups contained in "washer pits" stationed roughly 25-feet apart. This is a fun beach game for a group of people to play.
The downside? Finding washers that missed the aforementioned pits and get buried in the sand. Still 4theBeach.com staff rate this as the second best beach game for 2020, right behind BullziBuckets.
An original "washers" set runs $54.95 (plus shipping and handling), but there are cheaper versions available via Amazon or local sporting goods stores. A do-it-yourself? Well, here's a video with the steps necessary to make your own.
WIFFLE BALL FOR THE BEACH
This classic game needs no introduction, and drew several votes amongst 4 THE Beach folks when asked to pick their all-time favorites. 
However, as it pertains to beach play, it's hemmed in by the difficulty of blowing winds and finding enough open space to compete in a non-disruptive way.
You can get a wiffle ball bat-and-ball sets for less than $25.


FOOTBALL 4 THE BEACH
As long as you aren't on a beach with stickler-lifeguards, tossing a football around at the water's edge, and diving into the waves to catch it, is a distinctly summer-American pastime. 
A good nurf football is a required beach accessory.
PADDLE BALL CATCH BEACH GAME
If you are looking for a fun beach games with balls, this is it. This is a fun beach game for 5 year olds and up. This popular beach game for families has provided countless hours of beach enjoyment over the years and will continue into the future.
The paddles and balls are covered with Velcro which causes them to stick to the paddle. 
Below is a video we found that shows how this game works for those that may not be familiar with it.

PADDLEBALL/JAZZMINTON
Two wooden paddles. One ball. Loads of fun. Paddleball has long been a beach-game mainstay beach for beach lovers.  This has been one of the most popular beach games using balls for years.
It's such a mainstay that recent years have seen variations of the game arrive on the scene. They range from Pickleball, which was somehow deemed the fastest growing sport in America in 2015, to Jazzminton, which is a mashup of Paddleball and a version of Badminton adapted for the beach because of weighted "birdies."
Just keep in mind that "aggressive" games of paddleball have drawn some pushback from non-players who find themselves in proximity to the games.
Also, here's a video of women playing Jazzminton in the hallway at work.
BOTTLE BASH BEACH GAME
Ideal for endless backyard fun for the whole family, tailgating, camping trips, and perfect 4 the beach.


Enhances eye-hand coordination, all players active with every throw of the disc, great team game


Game set up takes less than one minute and can be played on 20, 30, or 40 foot long areas depending on skill level


Includes: (2) Non-breakable life like bottles, (2) Telescoping metal poles for use on sand or turf with built in scoring system



Accessories:Multi-surface base with built in cup holders, play anywhere.
LADDER TOSS/LADDER GOLF
A fun beach game for groups of all ages.
A tethered ball toss game is described in which a number of tethered balls arranged at both ends of a series of cords and secured to the ends of the cords by knots are tossed from a prescribed distance toward a number of horizontal bars positioned between upright supports which are retained in perpendicular angularity to the underlying support surface by bottom supports. 

Each of the horizontal bars are relocatable in a vertical direction along the side supports to other pre-determined points for engagement with the side supports by engaging a retractable latching member into a cooperating hole so that the bar is secured in the desired position. 

In this fashion the distance between the bars can be altered to vary the difficulty and skill levels of the game. Alternative embodiments of the game are also contemplated where the length of the bars is varied by changing the shape of the side supports to accommodate shortened horizontal bars.
This game is all about having two three-rung ladders and three sets of "bolas" for each team. The bolas (balls attached by an interconnected cord) are then tossed toward the ladders, placed 15 feet apart, with scoring dependent upon which (if any) of the rungs the bola wraps itself around.
There are many different games available, some are very cheap. flimsy and poorly quality.  For the beach we recommend the Tenalach ladder game, because of the quality wood construction, durability, and delux carrying bag for easy transportation back and forth to the the beach.

HORSESHOES GAME FOR THE BEACH
This all-time classic competition is easily adaptable to the beach. After all, there's sand in many horseshoe pits even if they're not at the shore.
The rules are straightforward, and the game is cheap and easy to transport to and from the beach. Here is an expert discussing nuances for the serious player:
SOCCER GOALS FOR THE BEACH
This one isn't specific to the Jersey Shore, and not by a longshot. This fast paced beach game is played on beaches across the globe. All you need is a ball, bare feet and, should you not have nets, four items to put down to represent a pair of goals. (If you want nets, though, you can get a set of two collapsible goals for under $60.00 complete with a carry bag.)
The harder the sand (as in closer to the water line), the faster the game.
This June and July, the Cape Express Beach Blast Soccer Tournament returns to the area near Morey's Pier in Wildwood, attracting hundreds of youth players (from U8 to U18) and adults to the resort town for a two-day celebration of five-versus-five soccer. It's the 10th year and this time, there are two separate events.
Beach Soccer is great exercise and a fun game to play on the beach for everyone.
CORNHOLE / BAGGO/ TIDALBALL
These three games are relatively similar, so we'll group them together for the purposes of this post.
In fact, the rules of Baggo and Cornhole are the same, but the boards are different insofar as Baggo's folding up like a mini-table or large briefcase which holds the bean bags inside. 
This is a classic beach game that will provide hours of fun for adults and children.
Where TidalBall (which bills itself as Cornhole "reinvented for the beach") differs is that it uses weighted wooden balls instead of bean bags, and in lieu of a board, players just dig a pair of trenches and holes and let the games begin.
As far as costs go, a Baggo game can be purchased for roughly $100, and Cornhole runs about the same.
With its lack of a board, TidalBall is much cheaper to get up and running, with a six-ball (three per team) starter set runs in the $25.00 range. You can check current Tideball prices here:

SPIKEBALL FOR THE BEACH GAME
This relatively-new-kid-on-the-beach-game block was originally created in 1989, but took off promotionally about 20 years later. These days, you probably see it just about any time you go to the beach. The is one of the fastest growing, trending beach games in the world. 
Also known as "roundnet," it's been called the "love child between volleyball and four-square." Spikeball involves a "taut hula-hoop sized net" with legs placed on the ground between two-person teams.
The game starts with a player serving the Spikeball down onto the net so it bounces in the direction of the other team, which has up to three hits before sending it back down onto the net and over to the foes. There are no boundaries, which means Spikeball can involve a lot of diving into the sand, a la beach volleyball. This is a fun, fast moving beach game that is very fun and exciting to play.
It's an active, engaging game worthy of its skyrocketing rise in popularity.
Below are videos about the game's basics, and some highlight-reel plays. If you want to see it in action, there's more and more tournaments being held at beaches all over the world. 
KAN JAM BEACH GAME
You've probably seen beach people throwing a Frisbee between what appear to be two mini-trashcans and trying to dunk the thrown disc into said receptacle from 50 feet away.
Yep, that's Kan Jam, and it drew several votes for inclusion among the top beach games.
 PhillyVoice's Sinead Cummings lauded the easy through which it can be carried to the beach, set up and played, while Jeff Douglass noted that, "Who doesn't like throwing a Frisbee at a glorified plastic trash can? It's a great game that anyone from kids to even Brian Hickey can play."
Aw. Thanks, Jeff.
Kan Jam players are called "throwers" and "deflectors," and though games can be played to 21, there's an "instant win" opening on the front of the "goal."
BOCCE BALLS FOR THE BEACH
Despite the influx of cool new games to play on beaches, we're ending this games to play on the beach article with a game so classic that its roots trace back to the Roman Empire.
Simplicity is part of the charm, as is how the two-to-eight person game involves some elements that make Skee Ball so great.
All you need is bocce balls (prices for sets range from around $10 to luxury versions at $100 or $150 or more) , drawing a "throwing circle" in the sand (the more packed, the better for ball movement), good aim and the strength to throw or roll the balls.
So there you have it, our list of the popular beach games for 2020, we hope you found a game or two you are looking for.  Thank you for visiting our site, and reading this article, and please remember 4theBeach.com for all your beach needs. 
Check out our high quality designer beach hats for women, men & Children!